SKF Smart Supplier 4.0
Do you want to try the SKF starter kit for
maintenance digitalization
free of charge? Start with Smart Supplier 4.0 today!
Try Out
Vibration diagnostics of your rotating equipment without upfront investments

The SKF maintenance digitalization software andhardware

An easy-to-use sensor of vibrations, temperature and acceleration enveloping

SKF Quick Collect

Analysis of data from your machines made by

SKF experts

Training on data collection and use of SKF applications
Reports and recommendations for higher maintenance efficiency.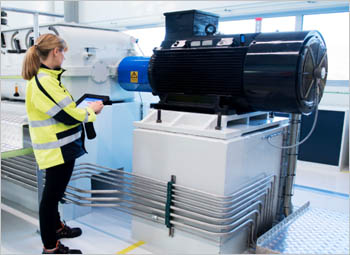 Rotating Equipment Performance
Rotating equipment performance – fee-based product & service packages
Move from traditional transactional purchasing of the products and services you require for your maintenance program, to innovative and flexible fee-based packages providing you with a selection of technologies and services aimed at optimizing your rotating equipment performance.

Reduce risks and get continuous support in all aspects of your rotating equipment needs. This integrated approach lets you measure our performance against agreed-upon key performance indicators.

Remove the risks of updating or expanding your condition monitoring technologies, gain access to valuable machine insights, improve your rotating equipment performance and deliver benefits to your organization – all for a fixed monthly OPEX fee.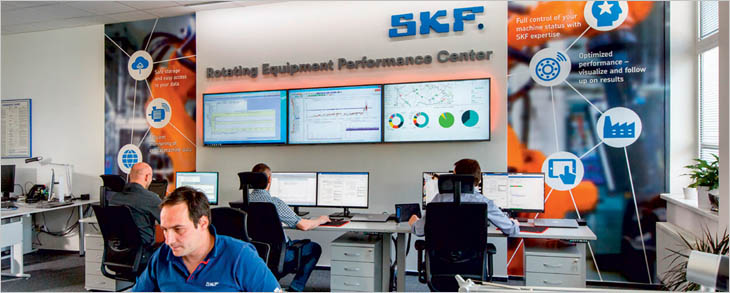 SKF Rotation For Life
Traditionally, bearings are purchased on price. This transactional approach however ignores many interrelated elements, which contribute to rotating equipment performance and overall total cost of ownership.
In response to these challenges, we have created
SKF Rotation For Life
– an integrated solutions programme focused on improving the overall efficiency of your rotating equipment.
For a fixed monthly fee
, you secure a long-term, performance-based agreement, which combines bearing technology, failure detectability and reliability services into an integrated package. It's a win-win contract, very well documented and tracked through key performance indicators.
Benefits of the SKF Rotation for Life programme include:
Improved rotating equipment reliability
Reduced overall operating cost of critical assets, leading to a reduced total cost of ownership
Lower capital expense through better supply chain processes and services
Predictable disbursement thanks to fixed monthly fee based on agreed on performance targets
Short payback with short implementation programme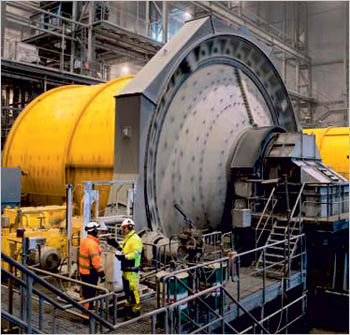 **Trainings
We always conduct trainings on our valuable customers related to any segment (Steel, cement, chemical, F & B, Mining etc) on following topics (Technical Days, MaproMitra, Bearing Designation, Lincoln Lubrication System, Sealing Solutions etc).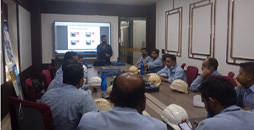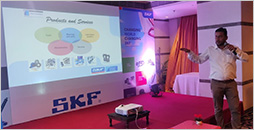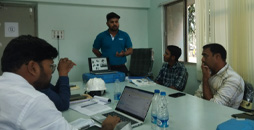 More Advanced trainings are also available on SKF.
(Vibration analysis -1, Vibration analysis -2, Root cause failure analysis, Motor current signature analysis and many more)
EXHIBITIONS
i) At our company, we are committed to staying at the forefront of our industry and showcasing our products and services to the wider community. That's why we actively participate in exhibitions throughout the year. Our team of experts attends these events to meet new customers, connect with industry leaders, and showcase our latest innovations. Exhibitions provide us with a unique opportunity to share our passion and knowledge with others, and we take great pride in the relationships we have built through these events. We are constantly seeking new and exciting exhibitions to attend, so keep an eye out for us at the next industry event near you.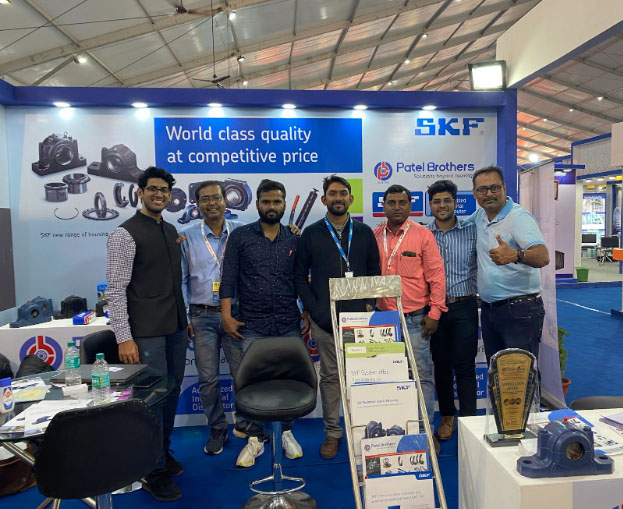 India Grain Mech Expo, 2022